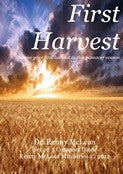 Dr. Renny McLean
First Harvest 2012: Become your First Harvest in this Passover Season
First Harvest Conference took place over Passover. Dr. Renny spoke about Economy, Passover, and a breakthrough message: Resurrection.
You can assess what level of faith you possess because levels can be reasoned: dimension of faith cannot be reasoned, you have to respond in the moment it has happening.
Faith takes you into the resurrection. You have to be a living sacrifice to continually access resurrection faith.
---
Share this Product
---
More from this collection